<![if !vml]>

<![endif]> <![if !vml]>

<![endif]>
National Morgan Reining Horse Association
(affiliate of the National Reining Horse Association)
January 15, 2014 * Happy New Year!
For some of us it seems that spring with its breeding season and 2014 show season is far away but for some of you lucky folks, you can actually see grass in your fields!
Membership Time
Time to renew you membership! Please go to www.nmrha.com to join or mail form attached to the end of this email! Please talk a friend into joining! Support or Western Morgans!
NMRHA Sire & Dam Program
We have several stallions promised to our NMRHA Sire & Dam Program already! If you have a stallion you wish to donate, please let me know. The money raised from selling these breedings goes to fund the NMRHA Derby.
If you are planning on breeding a mare this year, please consider one of our stallions. If the stallion you would like is not on the list, let us know and we will contact the owners and see if they would be willing to donate (or ask them yourselfJ) These breedings can be purchased for half the advertised stud fee (minimum purchase price of $300)! We will have advertising ready shortly.
Annual Meeting
Several ideas were proposed at our annual meeting. We are looking into what might be feasible:
See if we can get a 6 year old snafflebit/hackamore class put into nationals. In order to do this we would have to consolidate somewhere as we don't want to ask for more than three snafflebit/hackamore classes. Suggestion was: 3 & 4 year olds, 5 year olds, and 6 year olds.
Combining the 1st year green and 2nd year green into one class which would be "1st and 2nd year green". Two hands snafflebit/hackamore or one hand any legal bit. We could then use the freed-up slot for a green horse class which would read similar to the green rider definition (no world/national championships, etc)
We really want to emphasize youth participation in the reining division. Several items were suggested. See if we can get the youth division split into 15 and under and 16-21. Currently the youth cannot show youth if over 18.
Discussion was held regarding the qualifying process for the AMHA Reining Seat Medal Class. We will hopefully have a write up for you regarding this in the near future.
Discussion was held regarding the North American Junior Rider Championship. Christina handed out some flyers. We would love to field a team of Morgans! If you are at all interested in being a part of this endeavor, please email Christina!
If you have any projects you would like to pursue in the name of the club, we would be glad to hear! Remember, most things are accomplished at the local level!
Donations
We rely almost exclusively on donations to fund our projects. Please consider making a donation today at www.nmrha.com. Scroll down to donations and click!
All forms are available on the website
*
NATIONAL MORGAN REINING HORSE ASSOCIATION
<![if !vml]>
<![endif]>
WHAT ARE WE ABOUT?
GOALS AND OBJECTIVES
The purposes of the Association are to educate the public and publicize the versatile Morgan Horse as a credible competitor in reining horse contests; encourage interest in training and showing Morgan Reining Horses in class A All-Morgan shows; promote and encourage the participation of the Morgan Reining Horse in NRHA shows throughout the United States and elsewhere; Develop a set of standardized rules for Morgan Reining Horses based on the guidelines of the National Reining Horse Association classes; encourage the breeding and development of superior Morgan Reining Horses.
_____________________________________________________________________
NATIONAL MORGAN REINING HORSE ASSOCIATION
2014 APPLICATION FORM
Name: ____________________________ Individual Membership $25/yr: _______
Address: __________________________ Family Membership $35/yr: _______
__________________________ Junior Member (under 18) $5/yr: _______
Phone: ____________________________ Life Membership $300: _______
email: _____________________________ Associate Membership $15/yr: _______
Please check beside other
organizations that you belong to:
Mail to: NMRHA
AMHA __ 7701 Olivas Lane
NRHA __ Vacaville
NRCHA __ California 95688
Other: ____________________________
<![if !vml]>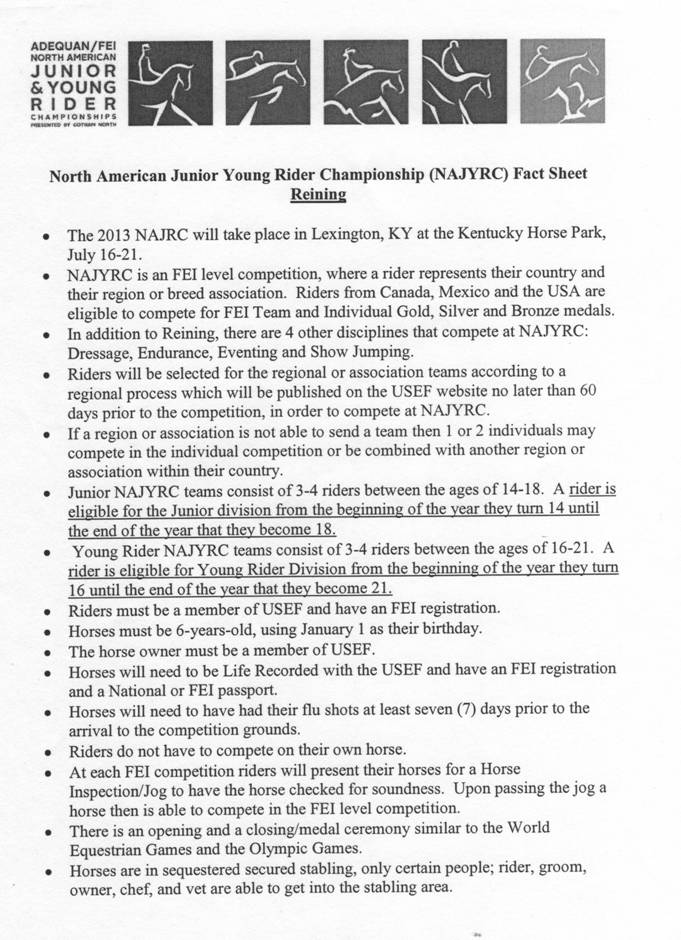 <![endif]>
<![if !vml]>

<![endif]>
Thanks Everyone!